I might have a hoarding problem so enjoy this Book Haul
Hey friends I know that's not what you signed for but please spare a few minutes to take a look at this:
The actual post (but please don't ignore what comes before):
So… in April I read a total of half a book. And I bought eleven of them. Physical books, I mean. So yeah, I might have a hoarding problem since I already had all these books to get to. And now I have even more. YAY. (Keep in mind I'm still not getting paid so yeah I don't know what I am doing either). Please someone stop me. Or force me to read so my Goodreads challenge isn't at 28324 books behind schedule.
So… here's what I bought during the month of April: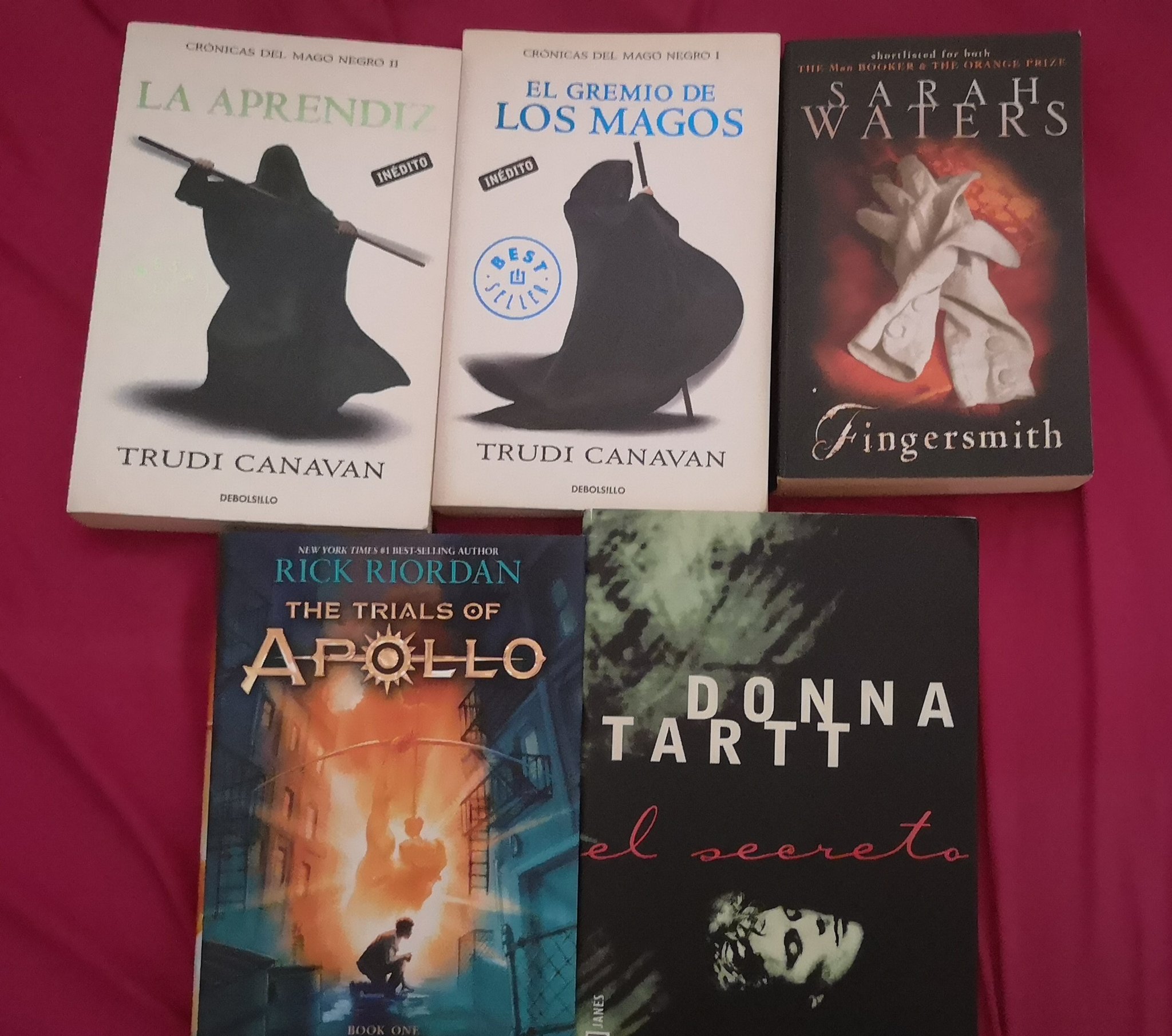 Bajo el metal
La flor y la muerte
The atlas six
The Magician's Guild
The Novice
Fingersmith
The trials of Apollo
The secret history
Señoras que se empotraron hace mucho
Labyrinth Lost
Hamnet
The list is mostly cause it won't let me add Alt Text to the galleries. If you know how let me know. Okay, so I might have bought one of these at the end of March but I don't remember. None of these pictures look good but hey it's fine I guess. I tried taking some better angled pics and, as you can see, they are awfully bad too. That's why I don't have a Bookstagram. Trust me. I tried.
So, let me start with disclaiming that it was my birthday last month and my parents had some money to spare. Also the one picture where there are 5 books, I got them at a second hand bookstore for 10€ total, which is a really good offer. As for the others… It had been literally years since I last got myself some spanish books full price, because they're really expensive, so I decided to support some authors now that I could.
Bajo el metal (Under the metal) is a book about a mechanic that's tasked with fixing a Neómano (neohuman), a robot that's so advanced that looks and acts like a human… catch is, they were prohibited and destroyed so long ago he's never seen one, and this is probably the last one. And the job is, obviously, illegal and dangerous. MLM. I had wanted to buy this book for a long time because I was mutuals with the author on my old Twitter account and I was really curious.
La flor y la muerte (The flower and the death) it's a sci-fi take on olympic myths, were society is divided according to the greek gods functions, and this follows a Demeter girl and a Hades girl competing at the Akademia to be leaders of their sections. I have adored every book from them I have read so I knew I had to read this one. Hopefully is less painful than their other greek mythology inspired book.
The Atlas Six is a fantasy book about six medeian, powerful magic users, who are chosen to be initialized into the secrets of The Alexandrian Society, the caretakers of ancient knowledge and holders of the most important positions in society. This blowed up on Twitter back in February I think, and it's my first time buying a book by an auto-published author. The illustrations are also really beautiful.
The magician's guide and The Novice are the first and second book from Trudi Canavan's The Black Magician Trilogy. This is from the early 2000 and follows a very simple plot: a girl from the slums discovers she has magic powers usually restricted to the upper classes, and follow her path as she tries to avoid joining The Magician's Guild and all the magical and romantic adventures that follow. I think she's not very famous in the US and UK markets but, for some reason, she's very present in Spanish bookstores and libraries. This was the first ever adult SFF I read, so I'm glad to finally own the three of them.
As for The trials of Apollo and The secret history… I needed two more books to reach the 5 x 10€ offer and there wasn't much that catched my eye that day. The first one, I have already read and, as for the second, I am curious but it isn't at the top of my priority list right now.
Señoras que se empotraron hace mucho (Ladies that fornicated a long time ago) was my pick for Book Day (here in Catalonia, Book Day is very important and we have lots of stands were bookstores sell books in the streets. It's also a very romantic day, kind of like San Valentin, were lovers buy each other roses and books). The book is a funny ensemble of stories and anecdotes about relevant sapphic women in history.
Labyrinth Lost it's a book about a latinx bruja that want nothing to do with her magic, so she decided to spell it away… only for it to backfire and leave her with the task to recover her whole family from a realm as magical as dangerous. This was one of my favorite reads back in 2018 and also one of the first sapphic books I picked up, so when I saw it I knew I had to buy it. I was a little disappointed to see the promise signed item was a printed signature, but it makes sense I guess.
Hamnet I also bought during Book Day, and it costed me nothing cause the town hall paid for it. I saw it at every stand and I thought the cover was gorgeous. I don't usually pick up books in Catalan but I decided to make an exception for that cover. This book follows the fate of Shakespeare's family, one of which is named Hamnet, who died four years before Hamlet was written.
And that's it fools. Have you read any of these books? Is anyone willing to stop me from buying anything more until I read the books I showed here? I hope you have a good weekend.